About FDgard®
FDgard® helps manage the symptoms† of Meal - Triggered Indigestion or Functional Dyspepsia (FD), which include: abdominal pain, discomfort or cramping, nausea, burning, bloating, difficulty finishing a meal, and/or excessive belching.
Made from Caraway oil and l-Menthol
#1 Gastroenterologist Recommended‡
Shown to start working in as early as 24 hours 26 27
Uses advanced and patented SST® (Site Specific Targeting) technology
USE UNDER MEDICAL SUPERVISION
Manufactured in the USA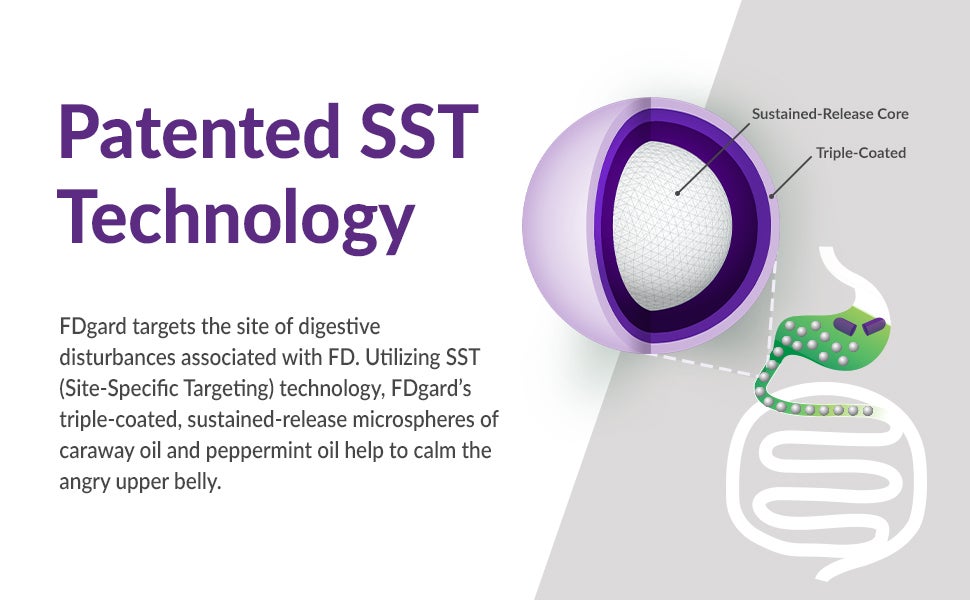 SHOP OUR BEST SELLERS
(1) Chey WD, Lacy BE, Cash BD, Epstein M, Corsino PE, Shah SM. A Novel, Duodenal-Release Formulation of a Combination of Caraway Oil and L-Menthol for the Treatment of Functional Dyspepsia: A Randomized Controlled Trial. Clin Transl Gastroenterol. 2019;10(4).
(2) Talley NJ. Functional Dyspepsia : Advances in Diagnosis and Therapy. Gut Liver. 2017;11(3):349-357.
(3) Voiosu TA, Giurcan R, Voiosu AM, Voiosu MR. Functional dyspepsia today. Maedica - a J Clin Med. 2013;8(1):68-74. doi:10.1097/00001574-200411000-00007
(4) Mahadeva S, Goh KL. Epidemiology of functional dyspepsia: A global perspective. World J Gastroenterol. 2006;12(17):2661-2666. doi:10.3748/wjg.v12.i17.2661
(5) FDACT (Functional Dyspepsia Adherence and Compliance Trial) - Rapid relief of functional dyspepsia symptoms with a novel formulation of caraway oil and L-menthol: outcomes from a self-reported patient outcomes study - Chey, W. In: American College of Gastroenterology Annual Conference - Orlando, FL. ; 2017.
(6) Thompson Coon J, Ernst E. Systematic review: herbal medicinal products for non-ulcer dyspepsia. Aliment Pharmacol Ther. 2002;16(10):1689-1699. doi:10.1046/j.0269-2813.2002.01339.x
(7) Talley NJ, Ford A. Functional Dyspepsia. N Engl J Med. 2015;373(19):1853-1863. doi:10.1056/NEJMra1501505
†With no known organic cause.
*Use under medical supervision.
Individual results may vary.