About IBgard
IBgard® capsules contain individually triple-coated, sustained-release microspheres of Ultramen®, an ultrapurified peppermint oil. In a 2016 peer-reviewed and published clinical study††, IBgard® taken daily and proactively 30 to 90 minutes before meals, was shown to start working in as early as 24 hours and the benefit grew at 4 weeks.†† In a real-world, patient-reported outcomes trial published in a peer-reviewed journal, §§ IBgard® patients reported symptom relief in 1-2 hours.
IBgard® is designed to help...
Normalize the digestion and absorption of food nutrients that have been compromised by IBS
Manage the accompanying and often distressing group of symptoms of IBS. These include, at varying times, some or all of the following:

Abdominal pain, discomfort or cramping

Bloating or gas

Diarrhea, constipation, or bouts of diarrhea interrupted by constipation

Urgency of bowel movement

Sense of an incomplete bowel movement

Pain during bowel movement

Promote the bacterial balance in the small intestine.18



In addition to peppermint oil, each IBgard® serving of 2 capsules provides approximately 640 mg of fiber and approximately 400 mg of amino acids (from gelatin protein). These, too, are intended to help toward normalizing the lining of the gut (gut mucosal barrier) and reversible, localized, low-grade immune activation. The l-Menthol in peppermint oil has anti-inflammatory10, antispasmodic11, visceral analgesic12, carminative (anti-gas)13, and anti-bacterial2,3 properties.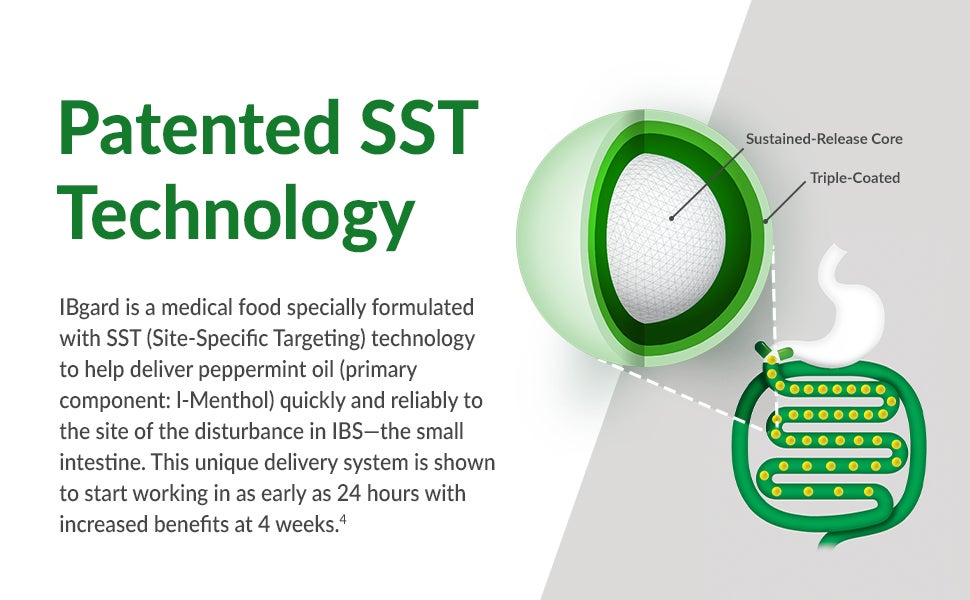 SHOP OUR BEST SELLERS
(1) Cash BD, Epstein MS, Shah SM. Patient satisfaction with IBS symptom relief using a novel peppermint oil delivery system in a randomized clinical trial and in the general population. Int J Dig Dis. 2016;2(2):1-5. doi:10.4172/2472-1891.100027
(2) Hungin APS, Chang L, Locke GR, Dennis EH, Barghout V. Irritable bowel syndrome in the United States: Prevalence, symptom patterns and impact. Aliment Pharmacol Ther. 2005;21(11):1365-1375. doi:10.1111/j.1365-2036.2005.02463.x.
(3) Holtmann GJ, Ford AC, Talley NJ. Pathophysiology of irritable bowel syndrome. Lancet Gastroenterol Hepatol. 2016;1(2):133-146. doi:10.1016/S2468-1253(16)30023-1.
(4) Cash BD, Epstein MS, Shah SM. A Novel Delivery System of Peppermint Oil Is an Effective Therapy for Irritable Bowel Syndrome Symptoms. Dig Dis Sci. 2016;61(2):560-571. doi:10.1007/s10620-015-3858-7
(5) Hawrelak JA, Cattley T, Myers SR. Essential oils in the treatment of intestinal dysbiosis: A preliminary in vitro study. Altern Med Rev. 2009;14(4):380-384.
†With no known organic cause.
*Use under medical supervision.
Individual results may vary.